Sarah Cannon Cancer Center at Centennial Medical Center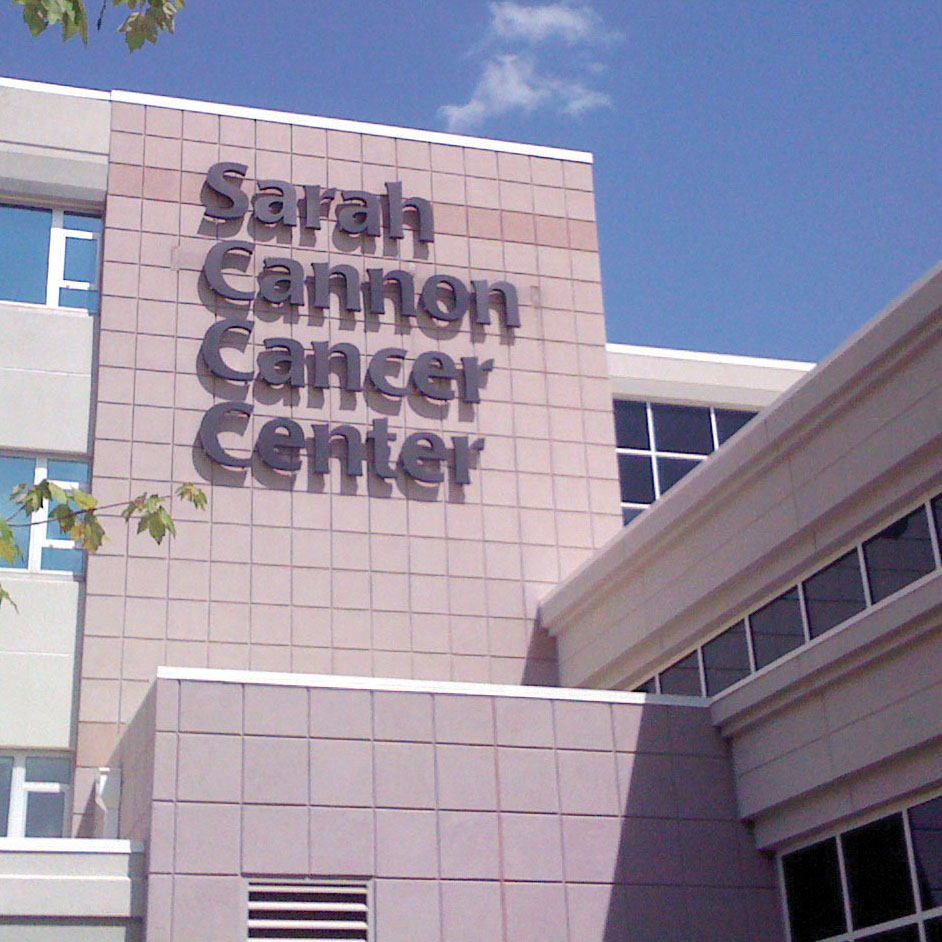 The newly expanded Sarah Cannon Cancer Center at Centennial Medical Center fully integrates comprehensive cancer diagnosis and treatment services under one roof. The center features a new entrance and patient drop-off area; a two-story lobby with pre-admission testing and registration areas; a surgical suite with four operating rooms, preoperative and recovery space; laboratory; pharmacy; and a healing garden.
The new cancer center brings together surgical services, radiation oncology (including the area's only CyberKnife stereotactic radiosurgery unit), chemotherapy and immunotherapy, with programs and resources to support patients and their families through the many facets of diagnosis, treatment and aftercare.
There are also specific units for blood and marrow transplantation, hematological malignancy, medical oncology and surgical oncology.
The center offers patients healing by delivering the very best in defensive tools against cancer, including:
Cancer care that has been recognized with the Outstanding Achievement Award from the Commission on Cancer of the American College of Surgeons (ACoS).
Extensive access to clinical trials through SCRI—the largest, private drug development unit (DDU) in the country.
The only private Blood and Marrow Transplant (BMT) program in Middle Tennessee, including a dedicated hospital unit that is accredited by the Foundation for the Accreditation of Cellular Therapy (FA CT) for autologus, allogeneic—both related and unrelated—transplants.
An interdisciplinary team of medical oncologists, gynecologic oncologists, radiation oncologists, and surgeons who are part of The Sarah Cannon Cancer Center Network, a regional network of medical leaders.
Advanced technology, including the daVinci Si surgical robot, the area's only CyberKnife stereotactic radiosurgery unit, breast MRI, and the area's first breast tomosynthesis 3-D imaging system.
Patient Care Offerings
In addition to the newest minimally invasive procedures and access to innovative, research-based approaches, we offer patients the benefits of all major treatment methods, including surgery, radiation and medical oncology.
Medical Oncology. Our medical oncologists use powerful cancer fighting drugs, hormones and immuno-stimulants to help the body stop or slow the growth of malignant cells. Chemotherapy may be used to impair the cancer's ability to reproduce and grow.


Surgical Oncology. Our surgeons perform procedures in four stateof-the-art inpatient and outpatient surgical suites that are equipped with innovative technology, including capabilities for minimally-invasive and robotic procedures. The operating rooms can accommodate patients up to 1,000 lbs.


Radiation Oncology.Our radiation oncologists utilize a full range of advanced radiation therapies—all of which are intended to target tumors with precision and accuracy so that surrounding healthy tissue is protected.



Intensity Modulated Radiation Therapy (IMRT). This sophisticated technology uses radiation beams of varying intensities to deliver different doses of radiation to small areas of tissue at the same time.
CyberKnife Ste reotactic Radio Therapy. The Sarah Cannon Cancer Center at Centennial is the only facility in the region using CyberKnife technology to reach and treat tumors previously thought to be inoperable and untreatable—including tumors of the brain, spine, lung, prostate, liver and pancreas.
High Dose Rate (HDR) Brachytherapy. Centennial is the only facility in Middle Tennessee witha dedicated HDR suite, affording patients convenient scheduling and access to this type of therapy.
Image Guided Radiation Therapy (IGRT). The newest generation of conventional radiation therapy uses 2-D and 3-D imaging to target tumors with greater control.

Interventional Radiology. A dedicated team of interventional radiologists specialize in a variety of procedures, including Radio Frequency Ablation, Radio Embolization and Chemo Embolization.


Comprehensive Imaging Technologies. Centennial offers a full range of imaging capabilities, including:



Open Bore MRI , which accommodates patients up to 350 lbs.
superDimension inReach™ 3-D lung navigation system
Breast MRI
Tomosynthesis 3-D mammogram system
Stereotactic Breast Biopsy
64-slice CT

Blood and Marrow Transplant (BMT) Program. Our BMT program is accredited by the Foundation for the Accreditation of Cellular Therapy (FA CT) for adult allogeneic and autologous transplants, bone marrow collection, peripheral blood progenitor cell (PBPC) collection and as a processing facility.


Clinical Trials. Patients have access to the nation's largest community-based oncology treatment and research program, coordinated by the Sarah Cannon Research Institute (SCRI). Formed in October 2004, SCRI provides alternative, innovative treatment options and greater access to clinical trials.To learn more, visit SarahCannonResearch.com.


Cancer Supportive Services. The Minnie Pearl Cancer Foundation provides assistance to adults impacted by cancer, including education, guidance and support from social workers and a registered dietitian. Additional information is available at MinniePearl.org.


Oncology Navigation Services. Oncology patient navigation services are provided at no cost to the patient as a part of their care. The oncology patient navigator assists patients in identifying and removing barriers that may hinder or delay care, such as concerns about health insurance, medical leave, transportation and more.
The Sarah Cannon Cancer Center
at Centennial Medical Center
230 25th Avenue North
Nashville, TN 37203
Telephone: 615-342-1000
Fax: 615-342-1045
www.centennialmedicalcenter.com