About Sarah Cannon
Sarah Cannon is a network of 8 affiliated medical facilities in Tennessee and Southern Kentucky that provides diagnosis and treatment to cancer patients. Through the work of TriStar Sarah Cannon and its network of over 100 medical oncologists, gyn-oncologists, hematologists, radiation oncologists, pathologists and surgeons in 2 states, more patients are benefiting from life saving cancer diagnosis and treatment. TriStar Sarah Cannon Network diagnosed and treated over 4,000 newly diagnosed cancer patients last year.
---
Quick Links
Campus Map & Directions | Phone Directory | Find a Doctor | View/Pay Bill | Thank the Staff
---
Great CANCER CARE where you need it…
TriStar Sarah Cannon has grown to become the largest community based, privately funded, diagnostic and treatment center in the country. The network of facilities operates cooperatively to provide state-of-the-art diagnostic tests as well as the latest treatment modalities.
---
PearlPoint Cancer Support
PearlPoint Cancer Support, formerly known as The Minnie Pearl Cancer Foundation, is a public 501(c)(3) nonprofit organization committed to providing personalized guidance and compassionate support to any adult impacted by cancer. PearlPoint's cancer supportive services, which complement medical care, are FREE of charge regardless of location. Learn more »
---
Who is Sarah Cannon?
While many knew and loved Sarah Ophelia Colley Cannon, many more were touched by "Cousin Minnie Pearl," the sweet country character she created. Like the fun-loving Minnie Pearl, Sarah Cannon has become an American legend known for her humor, generosity and compassion. Learn more...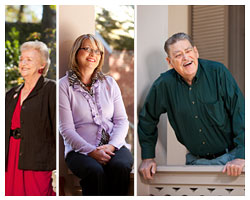 Patient Testimonials
Click here to hear the stories of hope from real Sarah Cannon Cancer Center patients.